Hair Transplant Standard Package in Turkey
Our Standard Package offers an optimal solution for our guests requiring a professional hair transplantation operation and wishes to minimize the costs.
The package includes the following services:
(For a custom package need, contact us. You can select only one of them or a few of them to create your special package!)
Hair Transplant with Sapphire FUE Technique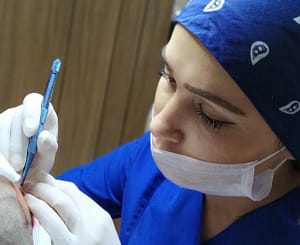 Sapphire FUE is a safe and commonly applied technique. Hair transplantation with the sapphire FUE technique is a cost-effective technique. Moreover, it offers some more physical and health-related advantages.
First of all, the sapphire tip does not harm the skin with its antibacterial feature that does not disturb blood circulation. Capillaries feed your hair. Sapphire tip does not unbalance the blood circulation as it does not tear the capillaries like a slit, like medical razors. The channels will get opened closely and very quickly, so, in this way, they heal quickly. In addition, the rate of infection from external factors get minimized after the operation.
Another advantage of hair transplantation with the Sapphire Fue, it is possible to transplant more grafts per square centimeter. In this technique, the hair gets denser and does not appear sparse.
Hair transplantation with the Sapphire Fue technique is possible with or without shaving.
Whether you are suitable for shaved or unshaved hair transplantation with the Sapphire Fue technique, call or send your photos via WhatsApp. Shortly after reviewing your photos, you can get your completely free hair analysis and all information about the operation in detail.
For more detailed information about hair transplantation with the Sapphire Fue technique, click here.
Graft Quantity: Limitless (Maximum Graft)
Hair Wash: 1 time in the hospital
Pre-operative tests
Duration: 3 nights
Professional Translator: During Operation & Hair Wash
Phone & Chat Support: Only Working Days & Working Hours
Accommodation: Asia City Hotel (4 stars)
Catering: Only Breakfast
In-city Transportation: Airport-Hotel-Hospital-Airport
PRP Hair Treatment: 1 time (during the operation)
Herbal Hair Vitamins: 120 capsules (for 4 months)
Companion: +1 (100 EUR)