Hair Transplant De Luxe Package in Turkey
De Luxe Package offers to combine luxury with the utmost comfort for your hair transplantation operation in Turkey. You will also benefit from the exclusive and personalized solutions in this package. De Luxe Package aims to make you enjoy a dreamful trip to Istanbul.
The package includes the following services:
(For a custom package need, contact us. You can select only one of them or a few of them to create your special package!)
Hair Transplant with Sapphire FUE Technique & DHI Technique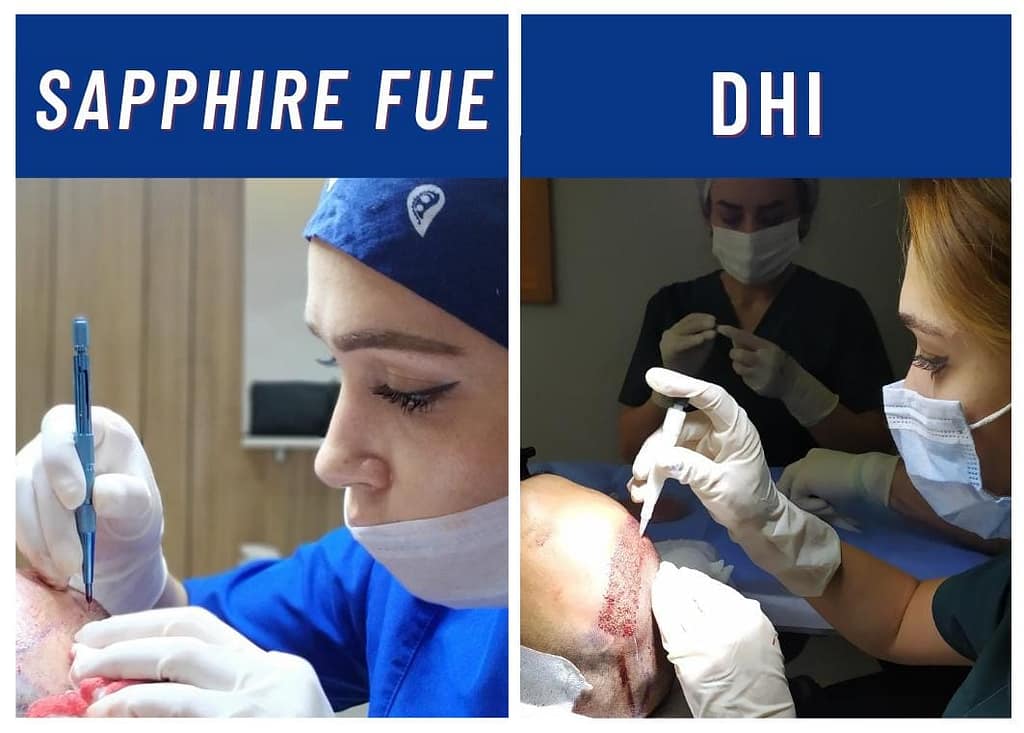 Both the Sapphire FUE technique and DHI technique are safe and efficient techniques in hair transplantation. However, the DHI technique is a more expensive technique that is mostly preferred in Europe. Both techniques are possible with or without shaving.
First of all, the sapphire tip does not harm the skin with its antibacterial feature that does not disturb blood circulation. Capillaries feed your hair. Sapphire tip does not unbalance the blood circulation as it does not tear the capillaries like a slit, like medical razors. The channels will get opened closely and very quickly, so, in this way, they heal quickly. In addition, the rate of infection from external factors get minimized after the operation.
Another advantage of hair transplantation with the Sapphire Fue, it is possible to transplant more grafts per square centimetre. In this technique, the hair gets denser and does not appear sparse.
For more detailed information about hair transplantation with the Sapphire Fue technique, click here.
DHI method can be used for more dense hair transplantation. Therefore the hair will look more natural. In addition, since the waiting period of the grafts is minimized, the risk of graft loss is much less, during and after hair transplantation.
Another advantage of DHI, with the hair transplant pen, angle and direction are easier and the angles of the transplanted grafts can be determined more easily. In addition, it minimizes the risk of tissue damage.
On the other hand, the DHI technique cannot be applied to all hair types. DHI will be inefficient if planting is planned for very large and balding areas. The DHI technique yields good results in hair densification, in thin hair.
For more detailed information about hair transplantation with the DHI technique, click here.
Whether you are suitable for shaved or unshaved hair transplantation with the Sapphire Fue or DHI technique, call or send your photos via WhatsApp. Shortly after reviewing your photos, you can get your completely free hair analysis and all information about the operation in detail.
Graft Quantity: Limitless (Maximum Graft)
Needle-Free Anesthesia
Hair Wash: 1 time in the hospital
Pre-operative tests
Duration: 5 nights
Professional Translator: During Operation & Hair Wash
Host (8 hours/day)
Phone & Chat Support: Only Working Days & Working Hours
Accommodation: Ciragan Palace Kempinski Hotel (5 stars) (Bosphorus view from the room)
Catering: Only Breakfast & Dinners in Famous Restaurants
In-city Transportation: Wherever & Whenever (during the entire plan)
City Tour: Accompanied by a professional city guide
PRP Hair Treatment: 1 time (during the operation)
Post-operative medical kit
Companion: +1 (449 EUR)